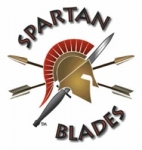 Knives with Intent

Welcome to Spartan Blades, LLC—Producing tactical knives for the Modern Warrior and Avid Collector.

"KNIVES WITH INTENT!"
Spartan Blades, a veteran / service disabled-owned company, was formed by two retired U.S. Army Special Forces NCO's ("Green Berets") to design, engineer, manufacture, and deliver finely crafted semi-custom (mid-tech) knives and accessories for the professional soldier, knife enthusiast or avid collector.

Whether you are a service member, outdoorsman, or collector, Spartan Blades endeavors to create knives that meet your needs.

Spartan Blades is dedicated to creating and manufacturing innovative functional knives made in the USA of only the highest quality materials (US origin). All Spartan Blades knives are produced using the latest computerized machining, heat and cryogenic treatment, pressure tempering and physical vapor deposition (PVD) coating technology.

Spartan Blades delivers a knife that will provide you years of faithful service in the harshest environments; all while maintaining its edge and strength of design.